Our Company:
Your Mass Spec Outsourcing Partner
LiVeritas Biosciences, Inc. accelerates and streamlines integrated mass spec (MS) analysis of drug candidates by machine learning. We are dedicated to empowering biopharmaceutical companies to meet urgent pre-clinical to clinical biologics drug development timelines for new therapeutics targeting human diseases.
We offer state-of-the-art LC-MS instrumentation and a broad suite of mass spectrometric solutions to assist our clients with their project needs.
Centrally located in the South San Francisco Biotech Hub, our team of PhD scientists provides in-depth biopharma industry knowledge, high-quality, and highly reproducible data within less than three weeks of turn around.
Our Commitment: Your Benefits
Centrally located in the South San Francisco Biotech Hub, we are equipped with a state-of-the-art laboratory and LC-MS instrumentation and offer tailored LC-MS services to best address your project needs. Our team provides in-depth biopharma industry knowledge to deliver high-quality and highly reproducible data in less than three weeks of turnaround time.
Expertise
Direct experience with DS/DP critical quality attributes
Tailored Service
Deliverables tailored to address project needs
State-of-the-Art Lab and Instruments
High throughput, high-quality, and highly reproducible data
Turn-around Times
Guaranteed timelines of < 3 weeks
Accelerated package of < 1 week
Our Solution: Mass Spectrometry as a Service
Our solution is called Mass Spec-as-a-Service (MSaaS), which offers a streamlined LC-MS workflow from start to finish in less than 3 weeks. MSaaS starts with meetings to discuss your project needs and set objectives, followed by submission of samples. We will carefully screen to apply an optimal analytical method for your samples. Data is acquired using ultra-high resolution LC-MS instrument, and processed data is well inspected and interpreted utilizing our Biopharma and LC-MS knowledge, as well as proprietary tools. Your results report is delivered in a timely manner, which provides in-depth information in characterization, identification, and characterization of your drug candidates.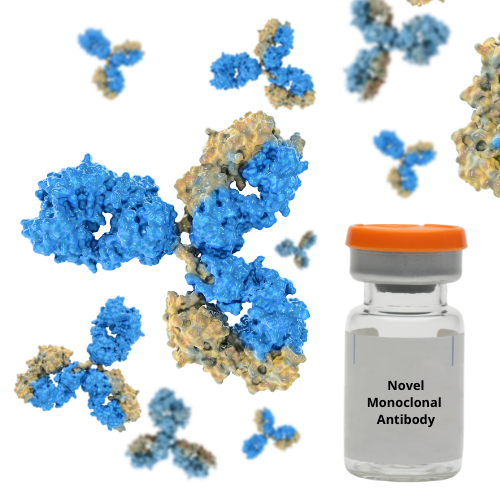 Phase Appropriate Project Objectives
Client-expert consultations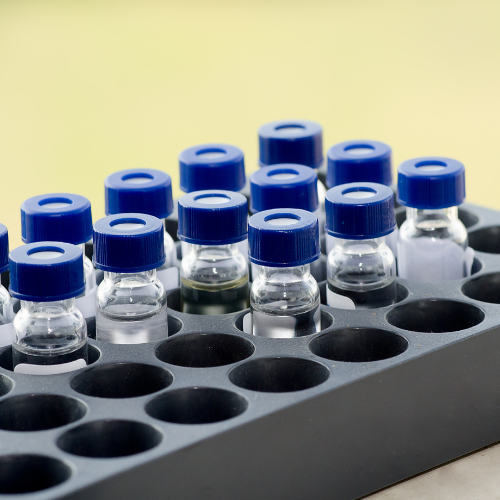 Analytical Method Screening & Development
Sample Preparation
System Suitability and LC-MS Analysis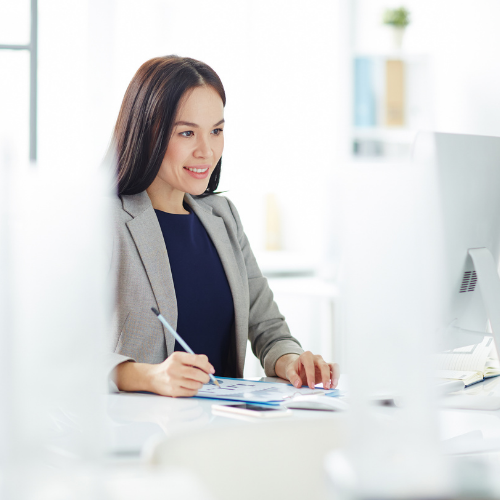 Data Processing & Interpretation
Inspection of Chromatograms & Mass Spectra
Deconvolution in DA Software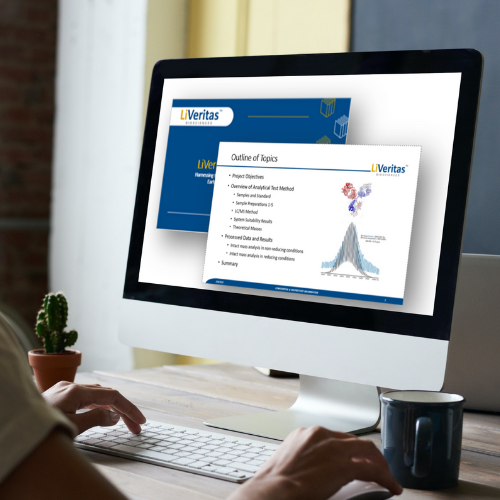 Results Reporting & Presentation
LC-MS Chromatograms and MS Spectra
Quantitation and Profiling
Proposed Identifications
Our Capabilities: Mass Spec Characterization to cGMP Quality Testing
Our capabilities include project areas in antibody derived drug candidates, ADCs, gene and cell therapy, and analytical development strategy for your drug candidates that is aligned with your CMC strategy.

Analytical Strategy
Integrated MS Characterization to QC Lot Release Testing
Aligned with CMC Strategy
Phase Appropriate
Fast Response and Accelerated Process

Modalities
Bispecific Antibodies
Antibody Drug Conjugates
Antibody-derived drugs
Novel Proteins
Small Molecules
Gene & Cell Therapy
Oligonucleotides

Characterization
Molecular Assessment
Forced Degradation
Sequence Variant Analysis
Reference Standard Characterization
IND Filing
Method Development
Pre-Validation
Drug Design, Bioanalysis

MS Workflows
Intact Mass Analysis
Peptide Map Analysis
Small Molecule Structural Elucidation
Large Molecule Quantitation
Small Molecule Quantitation
Glycan Analysis
Host Cell Protein Analysis

cGMP Capabilities
Appearance, pH, Osmolality, Protein Conc.
CE-SDS, iCIEF
SEC-UV, RPLC-UV
Peptide Map LC-UV-MS
Antigen Binding by ELISA
Residual CHO Protein, CHO DNA, Protein A
Method Qualification and Validation
Testimonials
LiVeritas is proud to be the trusted outsourcing partner who offers transformative strategic MS analysis and solutions for advancement of their clients' Next Gen Biotherapeutics.
"LiVeritas is better fit scientifically to us compared to the two other Mass Spec CROs we are working with right now."
"LiVeritas is a life-saver!"
"LiVeritas is an angel. We've been looking for an MS outsourcing partner with your offerings."
"LiVeritas's methods are very clever."
"LiVeritas has very impressive quality data for Intact Mass analysis."
"We are impressed with LiVeritas's MS capabilities and flexibility to perform analyses under short turnaround times."